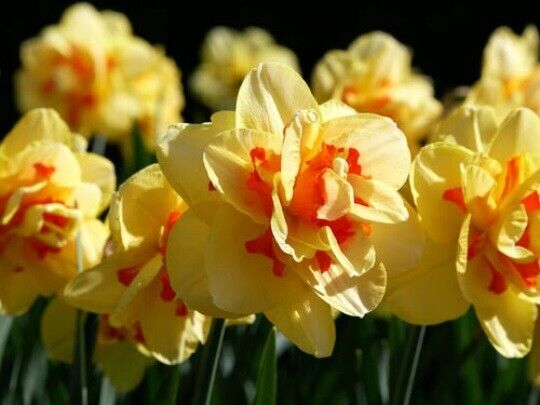 NARCISSUS 'TAHITI' HARDY FLOWER BULBS FRAGRANT DOUBLE DAFFODILS SPRING GARDEN!!!
Daffodil - Tahiti
Make your yard a tropical paradise this spring with the 'Tahiti' Daffodil! This daffodil is truly alluring with its golden petals and vivid orange-red center. The blooms, which can sometimes last up to four weeks, stand on top of sturdy stems making it able to stand up even to the toughest spring rainstorms. Not only is the daffodil gorgeous and deer resistant, it also blooms with quite a pleasant fragrance! Symbolic for new beginnings & to ensure happiness! Official flower for March & December Birthdays and 10yr wedding anniversaries!
Very easy to grow.
Narcissus flowers are excellent for cutting for a lovely springtime arrangement indoors, or you can also plant in patio pots and containers too. 
LIGHT 
Full Sun, Partial Shade
SIZE 
14-16 cm
ZONE 
3-8
BLOOM TIME 
Mid spring
HEIGHT 
18 - 20 inches
SOIL REQUIREMENT 
Well drained
DEER RESISTANT