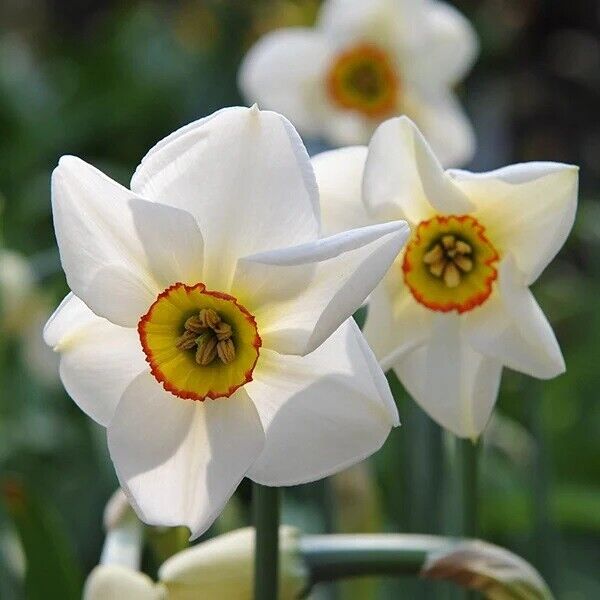 NARCISSUS 'POETICUS RECURVUS' PHEASANT EYE~VERY FRAGRANT~HEIRLOOM DAFFODIL BULBS
Daffodil - Pheasant Eye (Poeticus Recurvus)
Narcissus poeticus var. recurvus is classified as a wild species (Division X). By definition, Division X covers all species daffodils and varieties. N. poeticus var. recurvus (commonly called pheasant's eye) is native to Europe. It rises 12-14" tall in spring. Each flower features recurved white petals (perianth segments) and a small yellow cup (corona) with a distinctive red rim. Blooms very late (April-May in St. Louis). Flowers have a sweet fragrance. Narrow, strap-shaped, green leaves in clumps.
Genus name honors a beautiful youth who became so entranced with his own reflection that he pined away and the gods turned him into this flower.
Very easy to grow 
Narcissus flowers are excellent for cutting for a lovely springtime arrangement indoors, or you can also plant in patio pots and containers too. 
LIGHT 
Full Sun, Partial Shade
SIZE 
14-16 cm
ZONE 
3-8
BLOOM TIME 
Mid spring
HEIGHT 
14"
SOIL REQUIREMENT 
Well drained
Naturalize Well 
DEER RESISTANT